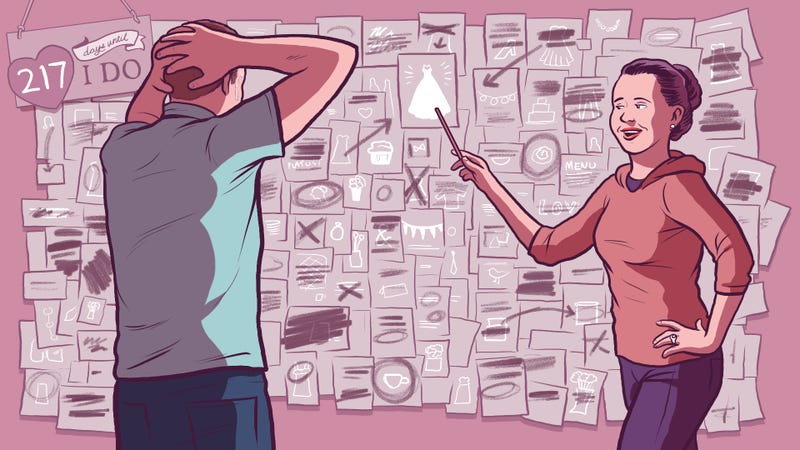 Wedding planning sucks. The dream wedding — with impeccably tuxedoed groomsmen, gold-infused champagne, and mason jar everything — is freakin' expensive. Getting from Cluelessly Engaged to Blissfully Married takes time and money, leading to lots of stress. Without some basic guiding principles, wedding planning can be fraught with tension, bickering, and pure peril.
For grooms, the traditional strategy has been to stay out of the way. But a man should be able to do more than just say "yes dear" and write checks: he should, you know, actually offer support and advice throughout the process. I'm not suggesting you mansplain your way to the big day, but you should be ready to step in with a tissue in one hand and some solid opinions in the other. If your partner is feeling overwhelmed, out of their depth, or just plain exhausted, Action Groom should be at the ready to put out fires and make sure everything is as close to perfect as possible.
Here are a few tips to keep the event affordable, stress-free, and romance-friendly.
Before You Do Anything, Start with One Question
What exactly is your vision for this wedding? Starting with this simple question for you and your affianced is the surest way to keep things on track, both financially and emotionally. Write down what both you and your partner say, and use these as your guiding principles. If your goals are diametrically opposed (eg. you want a giant party, she wants an intimate affair), work that out in the beginning. Otherwise you've taken your first step down a dreaded path: one marked by fights, tears, and sleepless nights spent wondering if this is even worth it.
Next, list out the three details that matter most to each of you. The operating principle is to focus your presumably limited resources on the things that are most important to you. The things not on your list are the things you should be willing to compromise on. Basically, this is the only real way to avoid an existential meltdown while sitting across from that seemingly nice old lady who just explained to you what a charger is and why everything's three times more expensive than you expected. For example, if no one cares that much about having a photo shoot decked out with lace, perfectly distressed antique furniture, and rope swings, keep picture time quick, simple, and accessory-free.
Decide on Roles Up Front
Do this whether or not you're hiring a wedding planner. When my wife and I got married, it was important to me that we have a wedding with all of our friends present. Thinking about how much planning that entailed stressed my wife out. So we compromised: if we were going to have a big wedding, I'd do the bulk of the planning, and she'd focus on the things she cared about most: her dress and the dessert. If you're not the primary planner, remember that your opinion on decisions beyond the "important things" list will be limited. If you agree to that up front, no one will be left worrying if the other person got what they wanted. That's not something you want to think about on your wedding day.
Start Early
When planning our wedding, the original venue fell through eight months beforehand. This might seem like plenty of time, but it wasn't. Cue the freakout. A mad scramble ensued, and our backup venues knew it. We received many, many proposals for venues that were extortionate, because it was obvious we were pressed for time. It was absolute hell all wrapped up in cream-colored ribbon.
Take it from me: a rushed wedding is more stressful, and can lead to more conflict. A wedding can be awesome, cheap, or last-minute. Pick two. Don't underestimate the expense and stress that a hasty wedding will entail. It'll involve corner-cutting and compromise at every juncture. You could argue that it's nice to know your relationship can survive this type of stress, but do yourself a favor and save that for after the honeymoon.
Make a Budget
No single aspect of wedding planning is more stressful than the cost. Dealing with financial management as a couple is no picnic even in the best of times. Throw in one of the three largest purchases you might ever make, crying relatives, inflexible calendars, and conniving vendors, and you've got a recipe for disaster.
Take preemptive action; make a budget before your wedding. Start with a number that you know you can afford. Avoid any vague "oh, we'll find it somewhere" thinking. Then, when you start shopping for vendors, lop off 20% of that right off the bat. Never admit to anyone that your number is any higher than the 80% figure. Allocate half that money to food and drink — those are monstrously expensive, and the biggest pitfalls in the wedding budget (who knew hor d'oeuvres could cause so much tension?). Allocate 20% to the venue, 10% to the dress, and 20% to everything else. Note that flowers will eat up a lot of that, so if they're not on your "important things" list, consider creative solutions. Florists are devious masters of the price spiral.
Deal with Respective Families Tactfully
Families are a notorious source of stress for newly engaged couples. I mean, the concept of joining someone else's family halfway through your life — a group of near strangers with their own incumbent history, drama, and unresolved issues — is pretty strange. Avoid fights over what flavor the cake should be and remember that just because your future spouse deals with their family in a certain way, you don't have immediate license to do the same. On the other hand, you can't completely dismiss your partner's attitudes and feelings about their family by, say, insisting they are too mean to their seemingly pleasant but secretly evil stepmother. The best default course of action is to follow your partner's lead, but err on the side of politeness. And be ready to step in and act as a go-between if things get out of hand.

There is one rule that can keep things fair and relatively stress-free with families: those who pay have a say. If your stepmother-in-law wants to invite a hundred people, she's gotta pony up. If she's not paying, then she follows your lead. This rule can seem insensitive, but it's the fairest, cleanest way to keep overbearing family members in check. Consider allocating a relative's money to one specific aspect of your wedding — the rehearsal dinner, the dress, the flowers, perfectly-arranged acorn centerpieces, whatever — so you don't have to deal with a billion opinions (and the resulting arguments) at every juncture of your wedding planning journey.

Don't Forget Why You're Doing This
Repeat after me: love. Now say it again: love. You love each other! So much so that you agreed to metaphorically link souls for eternity! If things get to be too much and the whole process has gotten away from you, it's okay to throw it all out the window and run off into the sunset/courthouse. But hopefully, with these guidelines, you'll be able to avoid high-pressure, last-minute freakouts, and make room for romance.
By tackling as much as possible up front, dealing with the hard choices, and giving yourself time to overcome obstacles, you''ll have a much better chance of having a relatively stress-free wedding. You might even have time to actually enjoy the day and celebrate your relationship with the person you care about the most. And for the most stressful moments, let Gillette Clear Gel keep you dry. #NoSweat. Good luck.

Premiering Soon: The new video series YOU GOT THIS! presented by Adequate Man in partnership with Gillette Clear Gel. Tune in here!
Rick Webb is a writer and investor, and the author of Man Nup: A Groom's Guide to Heroic Wedding Planning.
This post is a sponsored collaboration between Gillette Clear Gel and Studio@Gawker.
Illustration by Rob Dobi.